HYBRID cooker
(Full Automatic Soymilk Machine)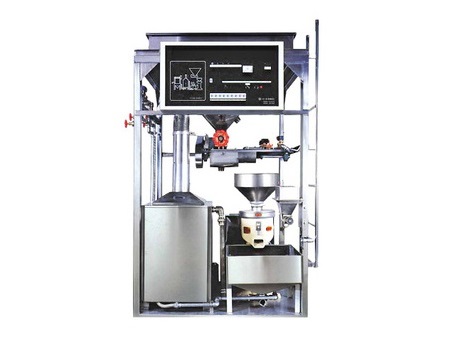 ■ Simultaneous heating from inside and outside of the kettle
It realizes perfect boiling without uneven boiling, and draws out the original flavor of soybeans.
■ Fully automatic processing
Everything from dipping to squeezing machines, we do not need hands by fully automatic processing.
■ Soy Milk as desired
Easy to set, from high concentration soy milk to low concentration soymilk, you can achieve the way you cook as you want.
For making good quality of soy milk.
Our especially designed silencer provides agitation inside the unit while the steam boiling is implemented. Indirect -hot water heating provides thorough boiling.This synchro-heating method enables even-boiled and perfect soy milk,and enables us to extract a rich and original soybean taste.
By the tank of the dual structure of heating system,there is very a little quantity of drain mixture of the boiler.
This enables us to provide the safe and reliable soy milk.
Capacity:60-90kg of dry soy beans/h
—
T-LANDS WORK CO.,LTD
Add: 136 Huynh Van Banh, Ward 12, Phu Nhuan Dist, Ho Chi Minh City, Viet Nam
Tel: 090 874 5483 / 0283 990 1535
Email: tlandswork@gmail.com